OPEN APPLICATIONS FOR 17. EMMAUS INTERNATIONAL YOUTH WORKING CAMP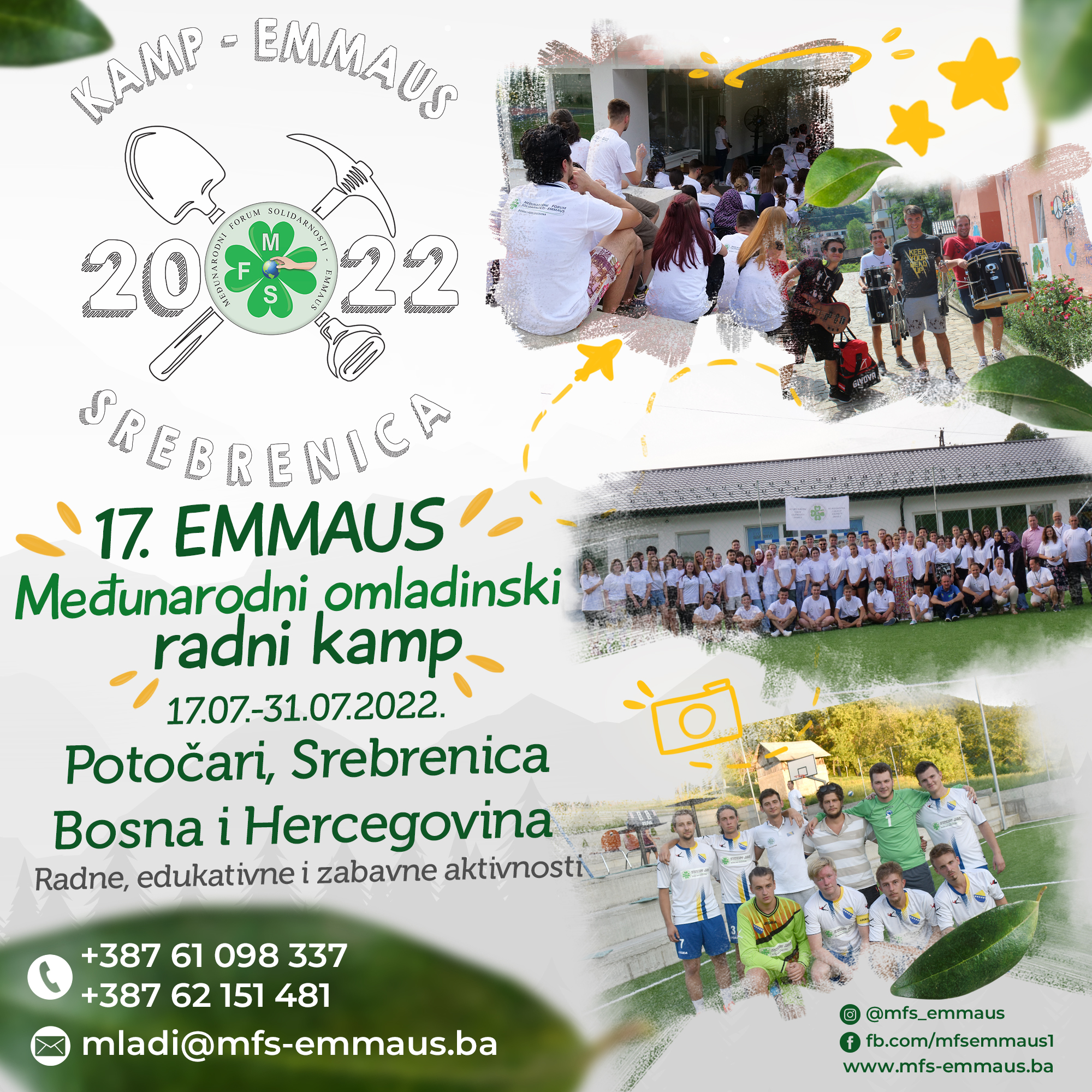 Organizer: Association "HO International Forum of Solidarity-Emmaus" (IFS-EMMAUS)
Location: Potocari (Srebrenica), Bosnia and Herzegovina
Period: 17.-31.07.2022.
About project:
Association "HO International forum of solidarity-EMMAUS" started organizing youth working camps back in 2006. Following the program scope of the Emmaus International Network in accordance to which youth camps are being organized around the world, IFS-EMMAUS as the only Emmaus International group member from Europe based in a non-EU state, in 2006 proposed to introduce youth camps in BiH, as youth events that will be consistently organized to promote tolerance, joint living and equality of all in a post-war country such as BiH. Having the above in mind, Srebrenica was chosen as a place to start at. 
Since then, the camp is held regularly every year, and the interest of young people to participate is growing year by year. The camps gather a large number of young people and volunteers from BiH and Europe, who contribute to the development and improvement of the living conditions of the population in the area of Srebrenica. This project was created with the aim of helping minority returnees and other socially excluded population and at the same time the project helps young people from rural and ethnically divided areas, teaching them to reconciliation, equality, opportunities and the importance of joint action, creating preconditions for their future social inclusion and action.
Activities:
The activities of the camps include participation of volunteers in ongoing projects implemented by IFS-EMMAUS; the construction and renovation of houses; water and distribution networks; assistance to the population in need; distribution of meals; humanitarian aid and clothing packages; renovation of city parks; restoration of cultural sights and monuments; cleaning rivers and lakes; etc.
In addition to working activities through various educational, entertainment, and sports activities, the camp is focused on acquiring knowledge of peace reconciliation and peacebuilding processes. Through these activities, tolerance and dialogue are promoted as a basic tool for the development and preservation of peace and to strengthen the active participation of young people in the community.
Registration/Application:
The deadline for applications is July 1. You will be notified of the outcome of the application no later than July 5 by e-mail or the phone number you provided in the application.
The number of places is limited, so hurry up with your application.
SIGN UP! https://docs.google.com/forms/d/15yrxkeiL73-Li9AyuPwon8KMcdWfiJIOv5qFIpgY_VQ/edit
Brochure with detailed information about the camp: EMMAUS International youth working camp – Brochure – MFS-EMMAUS
For additional information, doubts or questions feel free to write us at:
or call: +387 61 098 337 Haris Okanović; +387 62 151 481 Mirela Ahmetbegović