Two decades in the service of citizens: IFS-EMMAUS marked 20th anniversary of humanitarian work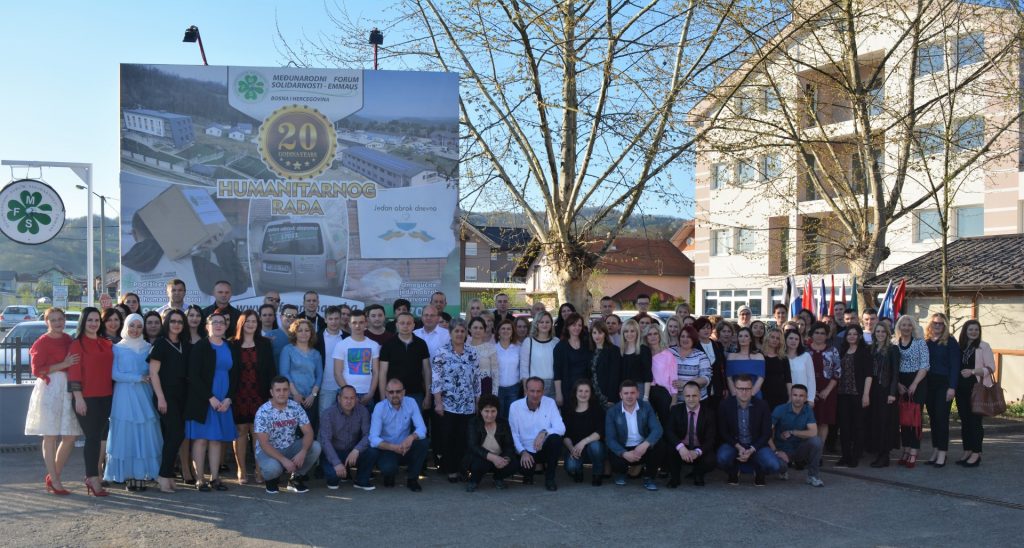 At the headquarters of the International Forum of Solidarity – EMMAUS on Saturday, April 6, 2019, a ceremonial program and guest reception marked the jubilee, 20 years of humanitarian work.
With the presence of a large number of partners and friends of the Association, Assistants of Federal Minister of Displaced Persons and Refugees Mr. Nisvet Mujanović and Sead Kopić, representative of the Ministry of Labor and Social Policy Mr. Emir Hujdurović, Mayor of Doboj Istok g. Kemal Bratić and representatives of the Majlis of Islamic Communities, guests had the opportunity to see the video presentation of the Association, with the course of development and projects on which we work, in the service of humanitarian work through the years.   
To our associates, friends and donors were given 33 letters of gratitude and 60 acknowledgments, for the outstanding support they showed during the past year on the projects and activities of the Association. The awards were presented by the Chairman of the IFS-EMMAUS Board of Directors, Mr. Aziz Smajlovic. Director Hamzalija Okanović also gave special acknowledgments to long-time friends and partners who from the very beginning of the Association were our support and supported our work. Special acknowledgments were given to: Mr. Willem Pronk – president of organization PROPLAN, Edy Bonvini (Gruppo Sorriso), Rasim Lemezović in front of the Foundation "Ljudi rade za ljude" and Bajro ef. Dzafić in front of MIC Doboj.
On the occasion of the anniversary, "Franco Bettoli 2019" Memorial futsal tournament for kids was held, in honor of a great humanist and former President of Emmaus International.
Participation in the tournament took six teams: MNK "KASKADA" GRAČANICA; SCHOOL OF FOOTBALL "AČKO" DOBOJ; SCHOOL OF FOOTBALL "NK ATLETICO 1919" ORAŠJE; SCHOOL OF SPORT "DI-FIVE" DOBOJ ISTOK; SCHOOL OF FOOTBALL "OMEGA" DONJA ORAHOVICA and "BETA CLUB-TANGO" LUKAVAC. Although for us in this tournament all are the winners, after the exciting games,  first place was won by MNK "Kaskada" Gracanica. Second place was won by "BETA CLUB – TANGO" Lukavac, and the third place went to ŠF "OMEGA" Donja Orahovica. The fair play team was NK "Atletico 1919" from Orašje.  Best goalscorer was Bešić Ernad, best player Huskić Anes, and best goalkeeper Bodirogić Mihailo.
The celebration of the anniversary of IFS-EMMAUS ended with a good atmosphere where employees, guests and volunteers continued to socialize with music and dinner.
Obilježavanje 20. godišnjice Udruženja