EMMAUS IS PREPARING THE BIGGEST CONVOY FROM BIH EVER: ON WEDNESDAY THE CONVOY IS EXPECTED TO LEAVE BIH TOWARDS THE SYRIAN REFUGEES IN TURKEY AND POPULATION IN THE NORTHERN PART OF SYRIA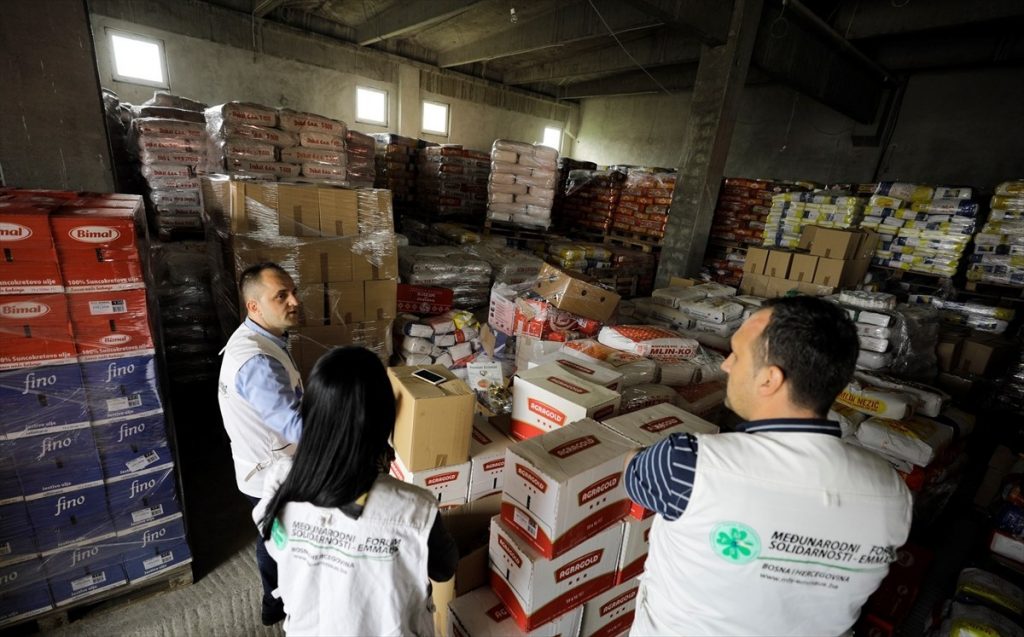 International forum of solidarity-Emmaus has once more successfully ended the action of collecting help in flour, oil and pasta (BiH production) for the population afflicted by war in Syria.
This activity was organized in cooperation with the Islamic community representatives.
This activity was implemented in cooperation with Muftis of  Tuzla, Zenica, Travnik and Mostar. Groceries were collected in the territories of each Majlis and our Association did the transport of these into our storages where we did the sorting and packaging and finally preparing for the loading. The action came to an end and so far we have 25 trucks (1 truck = 23 tones) which surpassed our expectations.
The convoy is expected to part on Wednesday, 17th April 2019 at 11:00 o'clock. The location is the parking spot of DMDE Company in Stanić Rijeka, municipality Doboj Istok.
In the past period, 53 aid trucks with 1280 tons of humanitarian aid consisting of food and hygiene products were delivered. In addition to food, three containers of clothing and footwear were sent to these territories. Head imam of majlis Tesanj, Fuad Omerbasic stated that the Islamic community of Tesanj has been significantly involved in the action of gathering help for the Syrian population.
"I can thank entrepreneurships in Tesanj and media for everything that they do when it comes to promoting basic human values, which, among other things, is the concern for the other. This year, although it lasted only three days, the action resulted in 94 tons of food items- flour, oil and other necessities. We are glad that we have had previously the unselfish support of the people of this Islamic community who also were at one point in the past in the same situation and now they know how it feels and what kind of help is really needed, " , said Omerbasic.