Hasanamidžić family in their New Home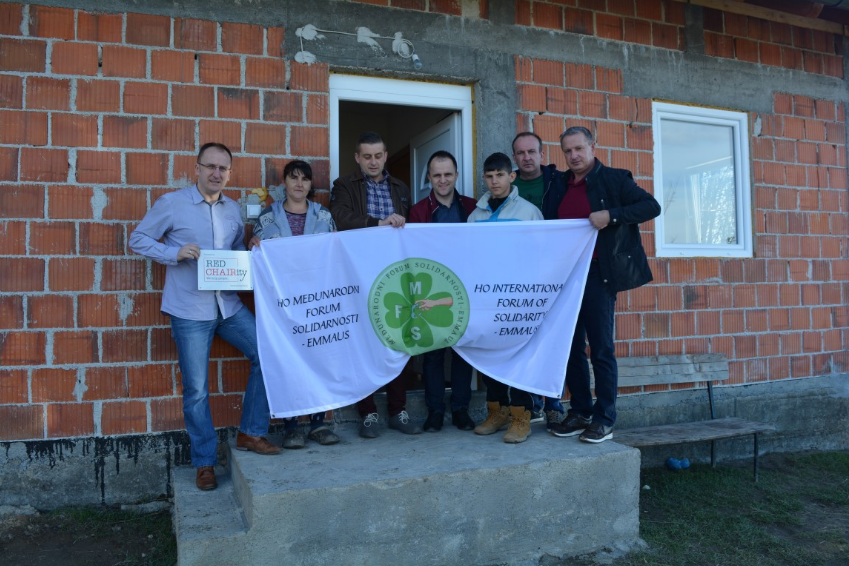 Today in village Hodžići, IFS-EMMAUS representatives along with the Director, and the director of the Centre for Social Welfare Doboj Istok, Omer Konjić and representative of the Association Crveno – bijela – crvena radost (Red- White-red Joy) handed officially to the family Hasanamidžić the keys to their new home. The keys were given to Ajka, who couldn't hide the happiness and as she points out " This means a lot to my family, I am happy and overwhelmed. The house has been made just as I always dreamed."
In July last year, IFS-EMMAUS and the Centre for Social Welfare of Doboj Istok launched an appeal for this family in order to raise funds for construction of a proper house for this socially endangered family of returnees.
This is a short story of this family. Hasanamidžić Ajka lives in the village Hodžići, Doboj Istok, with her husband and two sons. The younger son goes to school, and the older one only finished elementary school and because of poor financial situation he cannot continue his education. Together with his father, he works in the forest, extracting wood, and this is their only source of income. They lived in a small almost demolished house that leaked, on a hard-to-reach terrain.
Thanks to the people of good heart, this activity was successfully finished. We are very happy that we managed to secure funds to build a house for this family and we sincerely hope that their home will be filled with warmth, happiness and memorable moments. Assistance in material was provided by Brezje Ltd., DMDE Ltd., Herceg Ltd. Srebrenik, Husanović Co Ltd. Top Sped Ltd., Urban BiH Ltd., Islamic community of Doboj and other companies and individuals.