IFS-EMMAUS HANDED TO THE ISLAMIC COMMUNITY OF DOBOJ A CHECK IN THE AMOUNT 81,000 BAM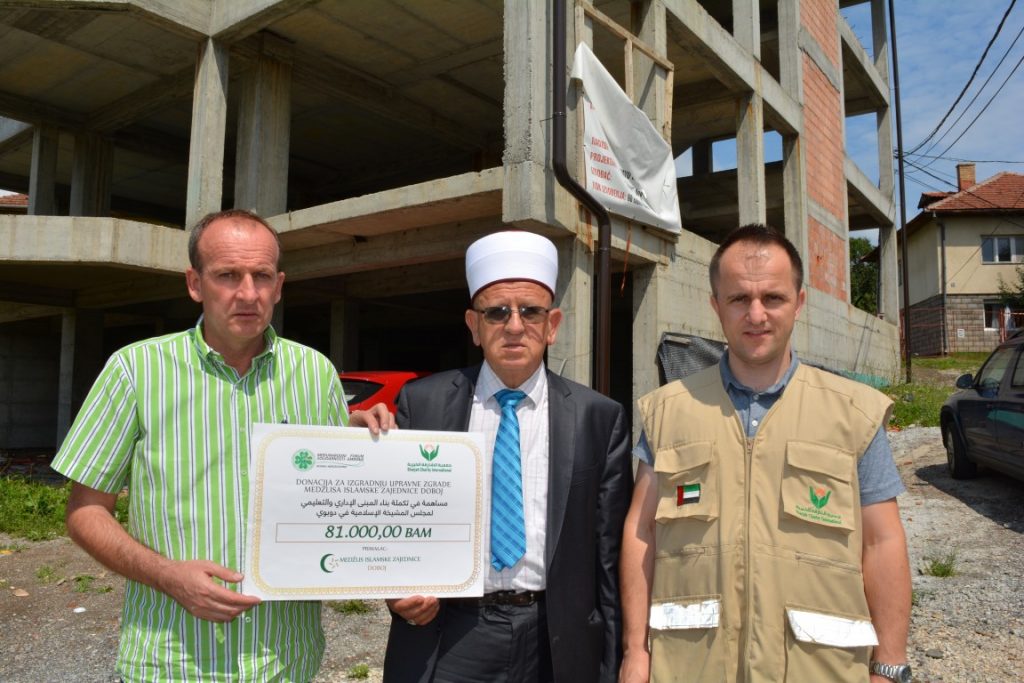 Today, IFS-EMMAUS led by the Director, Hamzalija Okanović handed to Islamic community of Doboj a check in the value of 81,000 BAM for the construction of the multifunctional management  building. The check was handed into the hands of the main imam of Doboj, Mr. Bajro Džafić.
Thanks to the donor from UAE this will be a step ahead to the final realization of a very important project for the Islamic community in Doboj.
Giving that Majlis as a higher organ in the hierarchical structure inside the Islamic community in BH leads a high range of duties in the field of administration, finances and other significant jobs of importance to the religious life of Muslims, by constructing this administration/management building they will be able to act more quickly and efficiently.  This is a multifunctional building that will be of use to the staff but also to the local community.  There will be a library end educational Centre which will contribute to the educational improvement of young population.
The new building will contribute to improving the overall living environment of Muslims and will complement the physiognomy of the City of Doboj with the oriental Islamic spirit.
We strive in any aspect to enhance the development of infrastructure that will be of benefit to the people and the area they populate.
This is just a continuation of the successful cooperation between IFS-EMMAUS and the Islamic community of Doboj, which has supported our numerous project activities over the past years.